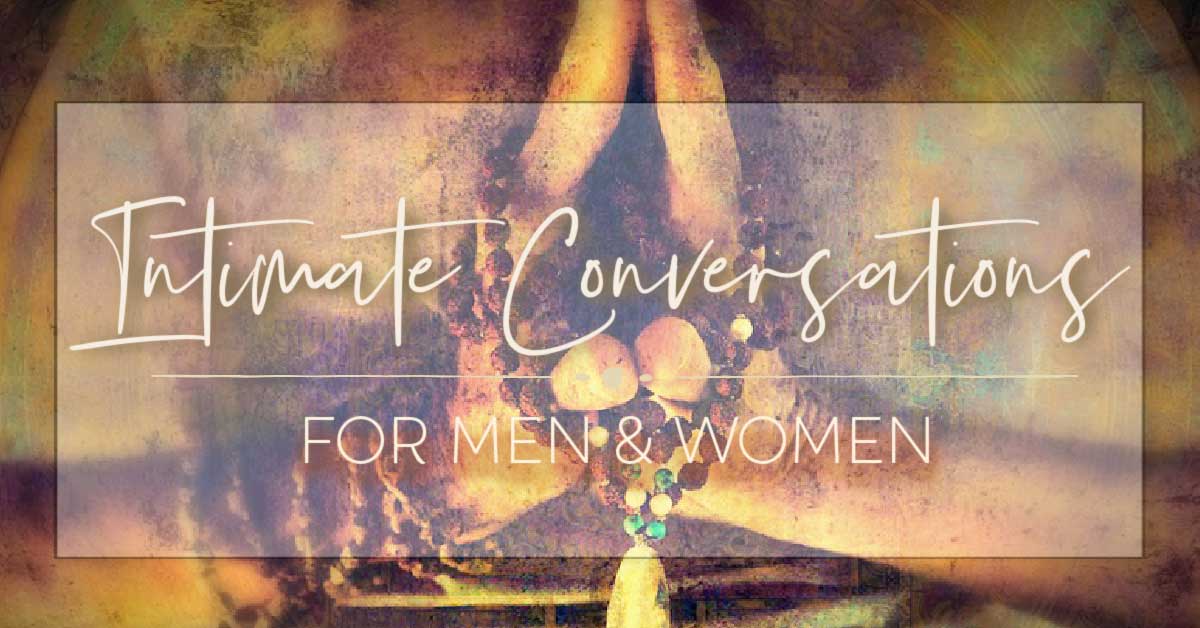 Time:
7.00pm – 10.00pm (QLD time)
* Please arrive at 6.55pm so that we can start on time
Location:
Karen Avenue, Mermaid Waters
(address will be emailed after ticket purchase)
Tickets:
Early bird
$40.00 General Admission (early bird ends on 20th November)
$35.00 Concession (early bird ends on 20th November)
After early bird
$45.00 General Admission
$40.00 Concession
* Please select the ticket price that reflects your circumstance.
* Tickets are NOT refundable
(tickets are transferable – can be used at a future event, gifted or sold to another person)
A little on the intention behind this Intimate Conversations ……
What would it be like to have soul led, passionate, deep, fulfilling intimacy, emotionally and s*xually?
The divide between men & women can feel unforgiving and irreparable at times. It remains in place simply because we don't have enough avenues to express the truth of how we feel without feeling shamed, without triggering another, or without coming up against reactivity.
"Intimate Conversations" is a unique opportunity to explore the topics that impact us all in our human experience of relating and connection. It is an intentional deep dive into the relationship realm. We explore all that is real, but perhaps not discussed openly in everyday conversations. This is an effort to bridge the gap between men and women, by speaking to the unspoken.
What we commonly discover through meeting each other in presence and engaging in an intimate conversation, is our sameness, our shared humanity; forming a space of honesty where there is no "us" against "them" vibe.
At these events, we take you on a journey into discovering more about intimacy, attraction, relationships and how to relate to the opposite sex more fully and deeply. Our intention is to support you in feeling more empowered & self-assured in your relationships.
What to expect at this event…..
If you've had issues in the past, or are having current issues, within your relationship and relating to your partner in and around intimacy….
If you seek to understand what it is that your partner may be desiring from you and your relationship…..
Or, if you are wanting to attract a healthy relationship into your life & deepen your connections?
This event is for you!!!
This intimate conversation is a mixed-gender event. These conversations are intimate, edgy & powerful, a truly unique opportunity to gain a deeper understanding of both yourself and others, particularly the opposite sex, and to deepen your connections.
Together we embark on an intentional deep dive into the lived experience of men & women in modern day dating, love & relationship, in an effort to support each other and navigate the challenges of relating.
We have six amazing speakers, three men and three women – EJ Love, Emily Claire, Jane Nguyen and our male guest speakers – Bear Nutting, Brooke Lucas and Duncan Burns.
Together, our speakers bring a wealth of wisdom in the fields of intimate relating, sexuality, sacred sexuality, neo tantra embodiment, relationship coaching, men's work and women's work. They are passionate about supporting men & women in their growth and are keen to provide helpful insights for people to gain a deeper understanding of their experiences with the other sex.
We will begin the evening with a beautiful connection process in pairs to enable us to come into presence with another, feel seen and experience connection.
We will then separate into men's and women's 'huddles,' you will be supported to consider the ways in which you have been impacted by your relations with men/women, past & present, and the questions you really want to ask to gain more clarity.
Then we will come together as men and women and dive into an "Intimate Conversation" with our guest speakers, an open forum where you can ask any question you really want to ask to gain more clarity and guidance.
You will have the opportunity to ask the panel questions, directly or anonymously, by writing out your question for the hosts to read out. Or, if you prefer, you can just sit back and take it all in.
We will close the circle with an open sharing where everyone will have the opportunity to express their takeaways an highlights and thank our guest speakers.
Who is this for…….
Whether you are single or in a relationship, you will gain from this intimate conversation, the questions will cover many different scenarios. Come with your partner, come alone, or bring a friend.
About your Facilitator:
Cine Holland
Cine is a heart-conscious Intuitive Empath, qualified Hypnotherapist/ Psychotherapist & Ritualist. Previously she facilitated regular Moon Rituals and workshops in Sydney and has hosted online circles & workshops for the past six years, birthing Sacred Connection Circles in the Northern Rivers two years ago.
Through both one-one-one client sessions and group circles, she is passionate about creating powerful spaces of connection & guiding people to remember their own innate ability to self-heal; by discovering the symbolic meaning of their experiences and accessing their personal wisdom through embodiment & complete ownership of their life experience.
Women's Bios
EJ Love
EJ LOVE is an Intimate Relating Teacher and Sexuality Mentor and the author of the International Bestselling Book 'Become the One', host of the 'Deep Sexy Play' Podcast and Founder of the Intimate Relating Teacher Training Program. She has worked in intimacy and conscious relationships for over 12 years and has helped thousands of men and women 1:1 with empowering themselves sexually and intimately.
Her journey began working in the sex industry as an escort which led to offering tantra and sexual healing services to men and she now trains and mentors other women in this work.
She also led the Self-Marriage Movement in Australia which went viral on the internet and she has been featured and interviewed for her work on Australian and International TV such as The Morning Show, Sunrise and Fox News.
One of her greatest passions now is also supporting people to reclaim play in their lives so that they can experience deeper intimacy and freedom of expression.
She does this whilst continuing to openly share her uncensored personal stories that are vulnerable, deep, sexy and enlightening!
Emily Claire
Emily Claire is a intimacy and embodiment teacher- practising for the last 3 years, and is committed to supporting people on their journey toward discovering the expansion, liberation, creative potential and deep intimacy available through embodied sacred sexuality and intentional connection practice.
Emily transitioned careers from a Lawyer to this work after being deeply inspired by the profound impact embodiment and sacred sexuality and intimacy work had on her own life and intimacy both with self and others.
Emily has mentored with the leading international and national experts in her field. She holds a wealth of knowledge in sexuality, relationships, sacred sexuality and neo Tantra, embodiment and dance as healing and is trauma informed.
Emily has journeyed deeply into her own healing regarding sexuality and relationships, particularly with her relationships with men and has experienced profound results. She is now a guide for both men and women, privately and in groups.
Jane Nguyen
Jane Nguyen is a Feminine Embodiment Facilitator, Sacred Sexuality & Leadership Coach for Conscious Female Leaders, A Truth Seeker, A Paradigm Shifter & A Devotee To The Sacred Feminine Art.
Jane has journeyed deeply in healing her Feminine and her sexuality, through abuse, trauma, and suppression via her Vietnamese culture. Through her journey & teachings, she empowers women to be the most epic, radiant, turned on & juicy AF version of themselves. This also allows women to experience orgasmic – ecstatic and 'out of this world' kinds of intimacy & relationships.
Previously working as a relationship coach for couples, Jane has witnessed the challenges both men and women face when it comes to relating, and is passionate about creating a new paradigm of relating where Devotion is at the core of intimacy.
She loves and supports men's work, especially when it empowers men to reclaim their primal power & sexual potency.
Men's bios
Duncan Burns
My name is Duncan Burns and from the age of 15, I first start suffering with depression, first drug addiction and suicidal ideology.
At the age of 20 I was involved with an outlaw gang. Over the next 9 years I had multiple drug addictions and faced death many times, culminating in me being shot dead and brought back at the age of 29, just after the birth of my first child and was diagnosed with chronic PTSD and severe depression, after leaving that lifestyle.
I then worked in the mines for 7 years, burying my head in work and raising my 2 daughters and choosing not to work on my mental health issues and healing myself, which ended up with me being addicted to 'ice' for 3-4 years and the breakdown of the relationship with the mother of my girls. This relationship ended up being very toxic, due to both side not dealing with our issues and became physically violent at the end as well.
I lived in my car for 4 months at this stage and pretty much attempted suicide twice. This is when I started reading self help books and fasting and cold water therapy.
I became a youth worker and I met the mother of my son soon after and once again this relationship turned extremely toxic due to both parties having mental health issues and not working on ourselves. When the break up of this relationship started, I became involved with men's work and have been involved with men's circles for the last 3-4 years and now co-facilitate them with Danny Redbard.
Also in this time I have worked with disengaged youth and ex-gang members transitioning out of that lifestyle and jail and supporting them to transform their lives.
I am also working with men and women through my 8 week program, to empower them to create change within their life.
I have a diploma of community services and a qualified NLP practitioner.
Brooke Lucas
As the co-founder of NewWay Life Solutions, Brooke is a Holistic Wellness Coach and a passionate advocate of creating unity between men and women. He specialises in addiction and trauma recovery and has worked as a facilitator and mentor to both women within organisations including the Mankind Project, Path of the Goddess and Ultimate Relationships. With the philosophy of 'In Love, We Grow', he truly believes that we can create unity by opening our hearts and coming back to love in every moment.
"The honesty and vulnerability the men showed and shared with their stories was really touching and to gain an understanding that their insecurities are not so different to my own, which is something I didn't give enough thought to in the past. Their need to feel safe was a really impactful statement for me."
"I loved the circle 'Understanding the masculine'. Hearing the men share openly, generously and courageously was in itself a balm for my heart. A relief, softening and turn on for my woman. It was amazing to be in a conversation that touched on some edgy topics very rarely addressed so openly between men and women. Topics that are fundamental to relating in a good, healthy way. It released some of my discomfort and fears around giving voice to these topics when I relate with a man. I got to hear specifics around what men want and need, their fears and desires. By the end of the circle, I felt peace, hope and great love. Thank you Cine and each man present."
"I absolutely loved this container to explore deeply all the judgements and preconceived ideas I have about the masculine due to poor interactions in the past. Cine guided the conversation in such a beautiful balance that allowed the men to fully show up in openness and vulnerability and that also allowed me to go there with them. Deep gratitude to you all!"
"Hi Cine and beautiful men who co-created a beautiful healing container for me to feel deeply touched and heart-opened. Thank you everyone for showing up. I truly loved the experience."
"My takeaway is to be courageous and stand in my truth and authenticity when connecting with men. And that also life is equally as hard to navigate as a man. Being more open and understanding of the wounds that men can also hold. I really want to thank all the men for being their beautiful selves and sharing themselves tonight! And thank you Cine for inviting me to join tonight!"