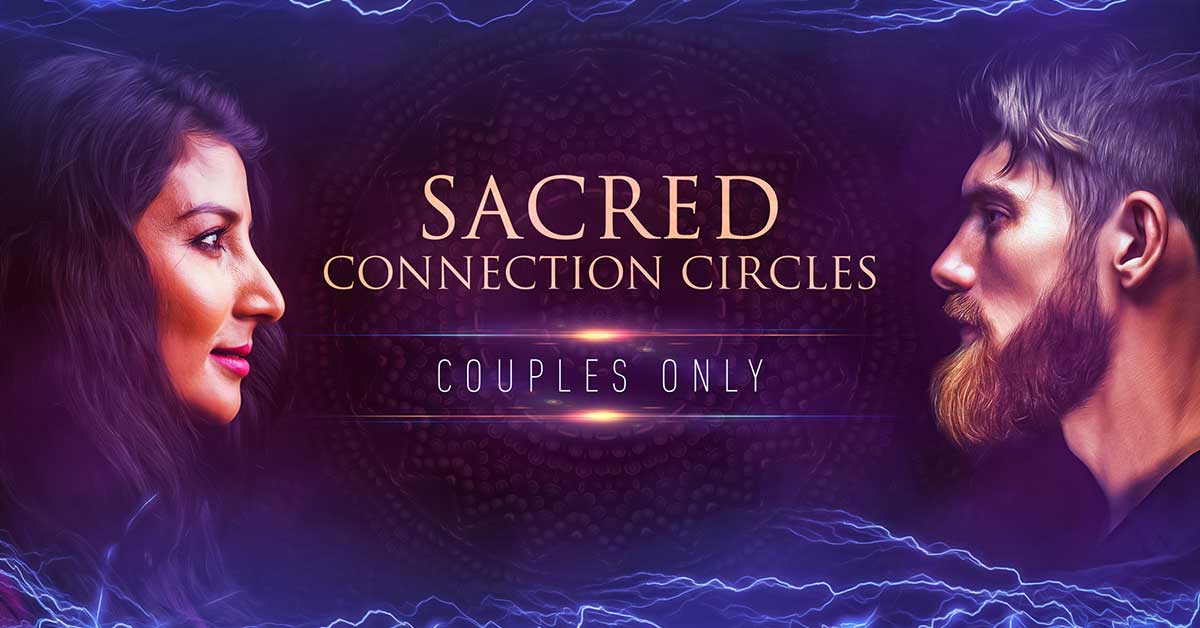 Time:
12th August, 2022 ~ 6.30pm – 9.30pm
Please arrive at 6.20pm so that we can start on time. Doors will close at 6.30pm.
Please also allow a little extra time to park and walk the short distance to the temple.
Location:
Serene Earth Sanctuary, 266 Kennedy's Lane, Myocum
Look out for the orange flag and drive in this driveway. Park in the carpark to the right and walk along to the temple. There are also a few car spaces closer to the temple if the carpark is full.
Tickets:
$85 per couple General Admission
$75 per couple Financial Hardship
Financial hardship ticket price is for anyone who is experiencing financial hardship. Please select the ticket price that reflects your circumstance.
If you are experiencing financial difficulty and can't afford a ticket, please reach out and we will send you a discount code.
Tickets are NOT refundable
(tickets are transferable – can be used at a future event, gifted or sold to another person).
What to expect?
Join us for a Sacred Connection Circles special event: for 'couples only.' This is an invitation to Deepen into Intimacy as a couple.
A healthy relationship involves two sovereign beings that honour themselves, each other and the space in between, which is your relationship. For this event we will guide you through processes and rituals that teach you how to cleanse the space in between and unite as a couple.
We will explore how to create a safe container, you as a couple will discover this together, setting the foundation for safety in your relationship moving forward and deepening your understanding of both your own needs, and the needs of your partner.
You will be guided as a couple through a deep & powerful "Release & Acknowledgement Ritual" giving you the opportunity to clear any blocks or debris that may have been clouding the space in between. This process clears underlying obstructions in your relationship, teaches you the beauty and reward that comes from the gift of true ownership, restores balance in your relationship and empowers you as a couple. You will both feel heard, met & valued; and know that you have also provided that for your partner. This unites you and reminds you of the importance of being on the same team.
From that beautiful, open space you will open to fun, play & intimate connection as you are guided through a "Desire Ritual" and then close the circle with a potent & connecting "Burning Ritual" that you do as a couple, while united with the whole group. This is my favourite part of the evening.
These practices & rituals are used in my private therapy sessions with couples, they are designed to suit any couple at any stage in their journey, whether you are a few months or years into, your journey as a couple. You apply them to what is real and true for you, both individually and as a couple. You can use these tools & practices in your relationship moving forward.
Intention:
This is an effort to cleanse the space in between, to speak to the unspoken. The power of both being witnessed and holding space, creates new foundations for safety. We will co-create this safe holding by reaching beyond blame, projection, disconnect & perpetual wounding and practice deep listening, conscious communication, a strong empathic presence & refrain from personalising another person's experience. Meeting each other in vulnerability and sharing deeply, without the overriding fear of being misunderstood, shamed or rejected. Creating new channels of communication and connection for the greater good of all.
Your Commitment:
Openness
Willingness
Honesty
Transparency
Empathy
Radical Self Responsibility
Commitment to personal growth
Integrity – respecting confidentiality
Who is this for?
This sacred container is exclusively for couples. LGBTQIA couples are welcome.
About your Facilitators:
Cine Holland
Cine is a heart-conscious Intuitive Empath, qualified Hypnotherapist/ Psychotherapist & Ritualist. She has facilitated regular Moon Rituals and workshops in Sydney and online & Sacred Connection Circles in Northern Rivers for the past six months.
Through both one-one-one client sessions and group circles, she is passionate about creating powerful spaces of connection & guiding people to remember their own innate ability to self-heal, by discovering the symbolic meaning of their experiences and accessing their personal wisdom through embodiment & complete ownership of their life experience.
Ben Jennings
With a background in Environmental work and over 20 years experience in various healing modalities and personal development work. Ben brings a flavour of presence, compassion and a deep understanding of trauma and wounding gained through his own personal experience and witnessing and holding space for healing others. Strongly valuing the somatic experience of the feeling body and conscious communication. Ben is currently offering healings in the somatic exploration of the feeling body associated with underlying belief patterns, facilitating men's work, rites of passage, combined sacred connection circles for men and women. He is a strong advocate for conscious relating and conscious parenting.